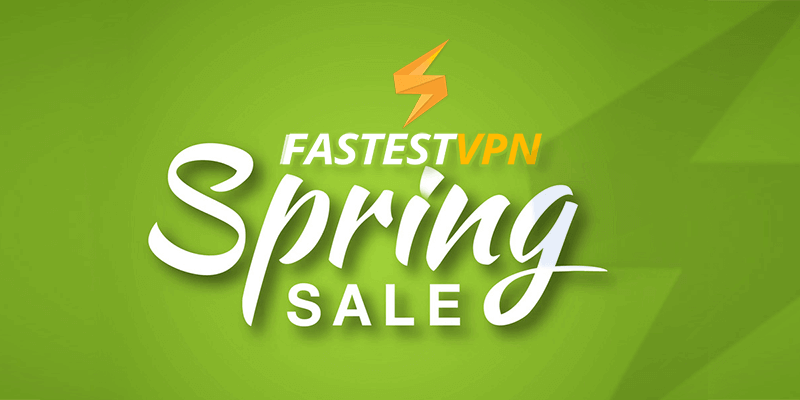 We are always looking for the best deals on VPN service to present to our readers. We are more interested in VPN services that offer the best value. Seasonal sales like FastestVPN Spring Sale are usually a great way to buy digital services like VPN at discounted prices. And VPN services have made it a point to deliver discounts in light of such expectations.
---
---
FastestVPN Spring Sale Deals for 2019
Regular readers know that we are generally fond of FastestVPN. More specifically about the value for money it provides. While it may not have the most features or the most number of worldwide servers compared to more established VPN providers in the market, it continues to be our favorite because of the pricing.
The pricing, for all intents and purposes, is a steal. The VPN provider often holds discounted deals that are much cheaper than regular pricing. This FastestVPN Spring Sale, the VPN provider is back with another round of discounts.
The highlight of FastestVPN Spring Sale is the 5 Year plan that has been slashed by 95%! If we break it down then five years of VPN protection will cost you just $0.83 per month. Then there's the 1 year plan which is at a 75% discount in the FastestVPN Spring Sale. Take a look at the complete packages for FastestVPN Spring Sale below:
---
Why Choose FastestVPN?
FastestVPN is a relatively new service that came to the VPN market one and half years ago. And because this is a new service, expectations should be kept in check. Don't get us wrong, the service does not fall short, but rather the number of features are usually modest when you have been a short time in the market.
For example, FastestVPN boasts a global network of more than 150+ high-speed servers. When you compare that to other VPN services, that quite low. But actual day-to-day usage does not bring us this reminder every time we turn on the VPN. These VPN servers are also P2P-optimized, so you can expect to get the best speeds while torrenting.
FastestVPN has the major countries covered. You can choose United States, United Kingdom, Australia, Canada, Germany, and France, and more. So, rest assured, you will not be missing out on the most common countries and their respective content.
Coming to security, the VPN encryption is backed by AES 256-bit encryption. A little fact about this encryption technology is that it is used even by the military. It speaks volume about the kind of protection you are getting out of this service.
Additionally, you get features like Anti-Malware protection that protects your device from harmful code and Ad-Block which blocks those intrusive ads. They both combine to give you a smooth browsing experience. NAT Firewall fortifies your device from unsolicited traffic that may cause harm.
---
---
Advantages of FastestVPN Spring Sale
As we mentioned earlier, sales like FastestVPN Spring Sale are a great way to earn some discounts. Who does not love discount? The fact that you pay $0.83 thanks to this FastestVPN Spring Sale, which is less than a dollar, is a complete steal for a VPN that is providing almost all of the benefits of the top VPNs in the market.
Add to the fact that you get Unlimited Bandwidth and the ability to connect up to 10 devices simultaneously.
FastestVPN has introduced a new purchase option. For as low as $1 per device, you can add support for another device. So, the more devices you want on top of any FastestVPN Spring Sale package, the more you will have to pay. This provides convenience to people who may have 12 devices in the house but do not want to buy another subscription just to be able to use VPN on those devices.
The service also lets you request a refund within a 7 day window if you are not satisfied. Think of this policy as a free trial. You can avail FastestVPN Spring Sale to try out the service and ask for a refund if the service does not live up to your expectations.