CyberGhost is a VPN service that hails from Romania. It's a prominent member of top VPN list of 2018. Over the years, CyberGhost has expanded to include more than 10 million users to its VPN service.
Potential new customer will want to know what's the global coverage is like. CyberGhost is one of the few VPN services that has a sizeable global coverage. It boasts a network of over 2300 servers in 60 countries worldwide.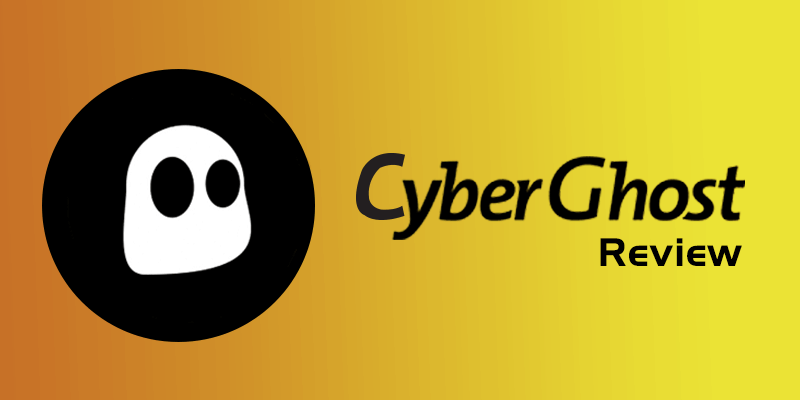 ---
CyberGhost Features
Over 2300 servers across 60 countries
AES 256-bit encryption
No logs policy
Supports up to 7 connections simultaneously
Kill Switch
DNS and IP leak protection
Offers free trial
TOR compatible
P2P/Torrent compatible
Multiple protocols
30-day money-back guarantee
---
Overview – CyberGhost VPN Review
This VPN service is operated out of Romania, which means that it enjoys being outside of the watchful eyes of 14 Eyes. Using a VPN is also legal in Romania.
The VPN advertises a no logs policy. That means your online activity will not be recorded by the service. CyberGhost comes equipped with military-grade AES 256-bit encryption. It's an encryption that is trusted by security experts worldwide, and used even by military. What that means for you is that your online sessions will be most secured with the highest-grade encryption technology.
Encryption adds another layer of security. It works by scrambling your data into an unreadable format, and deciphers at the destination using a unique key. Malicious users who would want to intercept data transmission over the internet.
There are many more features to be covered here. Let's discuss how CyberGhost fared in our experience.
---
Pros and Cons of CyberGhost
CyberGhost is one of the well-known VPN providers in the world. It's constantly in the list of best VPN providers, and for good reason, there are few VPN services that offer an extensive list of features. Over the years, CyberGhost has gathered its fair share of positive reviews. It gave us strong to check out the VPN service for ourselves.
Pros:
AES 256-bit encryption
No Logs policy
Over 2700 servers in more than 60 countries worldwide
Ad-block
Automatic Kill Switch
Unlimited bandwidth
DNS and IP leak protection
Simultaneous connections on up to 7 devices
Supports major platforms like Windows, macOS, Android, Linux
Free trial available
Easy-to-use interface
Cons:
Performance is not as fast as other VPNs
---
CyberGhost: Features and Unique Selling Proposition
Kill Switch:
A VPN allows you to mask your identity and spoof geo-location. It happens via the VPN service's own private servers that establish a connection with your device via the internet using a private IP address.
Every internet request that you make goes through the VPN service's servers instead of your Internet Service Provider (ISP). But when the connection to the VPN service temporarily drops, your real IP address becomes exposed to your ISP. To prevent ISP from detecting your identity, CyberGhost utilizes what is called Kill Switch. It disables your internet connection automatically if connection to the service is lost temporarily.
---
DNS Leak Protection:
A VPN service creates a tunnel between your device and its server via the internet. Without a VPN service, all internet requests are made through the ISP's servers. All your internet activity in encryption and securely transmitted through the tunnel. But a lapse in security could leak your real IP/DNS to the ISP. CyberGhost ensures that VPN connections are safe from such lapses.
---
No Logs Policy:
One of the reasons of using the VPN service is because the ISP has complete knowledge of a user's activity. Because every internet request a user makes goes through the ISP's server, it's aware of the user's entire online activity. And because of this ability to track user activity, the ISP keeps a strict check on users who perform illegal activities, such as visiting blocked websites. The ISP can report such activities to relevant authorities for legal action.
VPN allows you to prevent that by transmitting internet requests securely over the VPN's servers. CyberGhost promises that it does not record user activity on their servers.
---
AES 256-bit Encryption:
The internet is an endless resource that has no match. But it can also be a risky place to be, especially if you don't know what you're doing or what websites you're visiting. There are malicious users on the internet that intrude on user's data.
Encryption scrambles data into unreadable format, it can only be deciphered using a unique key. Data sent using CyberGhost's service is encryption and decrypted by the server when received. It ensures that your data stays protected against potential theft.
---
Unlimited Bandwidth:
Another perk of CyberGhost is unlimited bandwidth. What that means is that no matter which package you choose, your sessions won't be capped. You can freely surf websites, watch countless hours of videos, without worrying about crossing daily bandwidth limits.
The great thing is that the unlimited bandwidth also applies to the free package that CyberGhost offers, though you are in certain features.
---
Simultaneous Connections:
With so many VPN services fighting to take the crown from each other, services added incentives on top to make packages more interesting. For example, CyberGhost is one of many VPN providers that offers simultaneous connections with a single account. But more interestingly, you can connect up to 7 devices at once.
It puts CyberGhost as one of the best value for money. When you purchase CyberGhost, you can use up to 7 devices simultaneous using one subscription.
---
Global Coverage:
One of the key metrics to judge a VPN service's quality is the geographic coverage. The best VPNs have hundreds of servers scattered around worldwide. It allows users to access multiple geographic locations, such as United States, United Kingdom, Canada, Germany, and Australia. While the number of servers per region would ensure that performance doesn't slow-down during peak traffic.
CyberGhost is one of the few VPN services that has a strong global coverage. It boasts a network of over 2700 servers in more than 60 countries worldwide.
---
Simple Interface:
A robust VPN product is nothing is not simple to understand by majority of people. Fortunately, CyberGhost VPN does not suffer from overcomplicated user-interface. In fact, it's one of the best looking applications that draws you with catchy colors.
For people who are not tech savvy, CyberGhost will come as a welcoming experience.
---
Block ads:
No one likes ads. They are intrusive and potentially eat up valuable data when browsing on phones. Thankfully, CyberGhost VPN features built-in ad-blocker that runs on the server-side. It means that no processing is done on client-side, hence, you save data.
---
Malware Blocker:
As we discussed earlier, the internet can be a dangerous place. There are malicious websites that imitate other sites. The purpose entirely is to trick you into installing harmful programs or give out sensitive information like your Credit Card details.
CyrberGhost features a database that includes all such malicious websites. It verifies the website against a public database and warn you of any potential threats.
---
Block Online Tracking:
Another powerful feature is the ability to block online tracking. There are websites that track to understand their behavior in order to target content accordingly. This privacy breach can be prevented with CyberGhost. It features the ability to remove tracking codes from websites.
---
Apps:
People today are using more than one device. Mobile platforms have taken precedence over desktop PCs. A successful VPN product is one that also supports a variety of platforms. CyberGhost features supports for all major platforms that include Windows, macOs, Linux, Android, and iOS.
---
Protocols:
CyberGhost VPN supports major security protocols, such as OpenVPN, L2TP-IPsec and PPTP protocols. It will ensure a reliable experience when connecting with certain services/devices.
---
30-Day Money-Back Guarantee:
Another sign of a quality VPN service is when it offers money-back guarantee to customers. A refund window that lasts 30 days can be taken as a sign that experience with the product will be positive. Whichever package you pick from CyberGhost, you can ask for a refund if the service does not live up to your expectations.
---
Dedicated IP Address
An IP address can be thought of your address on the internet. All websites have an IP address attached to them, we simply refer to them by name to remember them easily. VPN service masks your identity by lending you a private IP address. Whatever requests you make travel securely through of CyberGhost's many servers.
It effectively makes you anonymous to your ISP. The dedicated IP address allows you to surf the web unrestricted.
---
Free Proxies List
CyberGhost also gives you access to free proxies to even free users. It works by becoming an intermediary between your device and the server you're trying to visit.   It encrypts the traffic going out, enabling you to browse the internet anonymously.
---
Protocols and Encryption
CyberGhost is a VPN product that features the best of technology under its hood. A VPN service connects you to one of its server via a private tunnel that transmits traffic to and from your device. There are different protocols used in VPN technology, and CyberGhost supports all major protocols.
OpenVPN protocol is the most widely-used protocol that was introduced back in 2002. It provides up to 256-bit encryption for the best security. Although setting up OpenVPN proves to be difficult for some, CyberGhost client takes care of the problem by handling the process itself.
L2TP is supported by CyberGhost. It stands for Layer 2 Tunneling Protocol, and highly-recommended for smartphones because OpenVPN is typically not supported on Android or iOS devices. L2TP itself doesn't provide any encryption, instead it's paired with a third-party encryption called Internet Protocol Security (IPSec).
PPTP stands for Point-to-Point Tunneling Protocol. Although it adds to the list of protocols available, it's regarded as the least secure in the bunch. It's considered faster because it carries low overhead, and also easy to set up. Similar to L2TP, PPTP doesn't have its own encryption and instead relies on third-party encryption.
The encryption for PPTP is known as MPPE (Microsoft's Point-to-Point Encryption). As the name gives it away, it was developed by Microsoft in collaboration with other companies.
Although this all may sound overwhelming, the thing to remember is that CyberGhost VPN takes care of everything. OpenVPN is the preferred default protocol when you first launch the VPN.
---
Recommended CyberGhost Protocol
CyberGhost recommends using OpenVPN protocol for the best security. Although it is difficult to setup but the 256-bit encryption makes for a strong security protection.
OpenVPN is difficult to set up but CyberGhost takes care of that. It's the default protocol the service uses to secure your connection.
---
The interface of the VPN App
One of CyberGhost's standout features is the easy-to-use interface. It doesn't overwhelm with you with texts and menus.
When you launch the app, you're greeted by a visual display of your geographic location. The region you have connected shows up on the bottom left corner of the window. You can click on the option to pull up a list of servers that are available for you as a paid user.
On the top left corner, you will find more options, such as general settings.
---
CyberGhost Review of Compatibility
CyberGhost supports all major platforms, including the likes of Router, Chrome OS, and Raspberry Pi. The VPN service offers app for Windows, mac OS, iOS, and Android. Simply download from the internet or from the respective digital app store.
For other platforms and OS, such as Linux and Routers, CyberGhost can be set up with a variety of protocols to choose from. Router compatibility enables you to add virtually all devices, including game consoles like PS4 and Xbox. The platform support of CyberGhost is one of the best among VPN services.
---
CyberGhost Windows Client
CyberGhost supports Windows OS. The supported Windows versions include Windows Vista, Windows 8, Windows 8.1, and Windows 10. The VPN service client can be installed directly from CyberGhost's website.
The installation is straight-forward and an easy procedure. It's pre-configured and optimized profiles enable you to get things running in no time, it works right out of the box. OpenVPN is the default protocol CyberGhost is based on.
CyberGhost offers OpenVPN, L2TP, IPSec and PPTP protocols for connecting via its VPN network.
---
CyberGhost macOS Client
CyberGhost supports Apple's mac OS X with a client. Similar to the Windows client, it's pre-configured right out-of-the-box, so you don't waste any time setting up the service. Simply download and install the VPN client from CyberGhost's website and get things running.
CyberGhost for macOS is built on the OpenVPN protocol. Additionally, you can connect to CyberGhost's VPN network via OpenVPN, L2TP, IPSec or PPTP protocol.
---
CyberGhost for Android
Smartphones today have replaced desktops as the priority platforms for developers. CyberGhost offers an app for Android platform, distributed through Google Play Store. The app carries a simple download and install setup, it comes pre-configured out-of-the-box. It makes for a strong point because a lot of smartphone users are not tech-savvy.
Simply head-over to the Play Store from your Android device and download CyberGhost app. Login with your credentials if you're paid user.
CyberGhost on Android supports L2TP, OpenVPN, IPSec, and PPTP protocol.
---
CyberGhost for iOS
Similar to Android, CyberGhost has an intuitive app for iOS devices as well. It comes pre-configured out-of-the-box. All you have to do is download and install the app, and get your VPN experience going.
CyberGhost on iOS supports L2TP, IPSec, and PPTP protocols.
---
CyberGhost Chrome Extension
CyberGhost is also a free VPN service. In addition to providing app for major platforms including smartphones, CyberGhost has a Google Chrome extension too.
The extension is fairly lightweight and doesn't take much space. Simply download the extension from Chrome's store, turn on the VPN and browse anonymously and unlock restricted websites.
---
CyberGhost Firefox Extension
Similar to Chrome extension, CyberGhost offers an extension for Mozilla FireFox users. It's a simple install-and-use extension that is available via the FireFox store. The extension is completely free, it takes up little space. Launch the web browser, connect to the CyberGhost VPN service, and browse the internet without restrictions.
---
CyberGhost Router Configuration
In addition to supporting major platforms, such as Windows and mac OS, CyberGhost can be configured directly in the router. This opens up possibilities for more platforms.
The platforms, such as video-games consoles, Fire Stick TV, Linux, that don't have a CyberGhost available, work just fine via router configuration. So whether you're watching Netflix on your TV or playing games, CyberGhost's VPN will unblock everything for you.
---
CyberGhost – Safe Jurisdiction
CyberGhost is operated out of the Bucharest, Romania. That means VPNs are not only legal in the place but CyberGhost does not fall under the watchful eyes of Five Eyes, Nine Eyes, and 14 Eyes alliances.
These are alliances of different countries who have collaborated to share intelligence. The intelligence is collected from digital sources, such as the Internet. The alliances actively intrude on users' privacy, collect data, and track whoever is breaching the law set by respective countries.
It is a common practice for VPN services to set up businesses in a country that does not fall under the jurisdiction of Five Eyes, and where VPNs are legal. Doing so frees them from legal obligation to comply with demands of any such alliance.
---
No Logging Policy
CyberGhost advertises no logs policy. It is an important part of privacy policy that everyone opting for a VPN should looking for.
VPNs work by tunneling your internet requests through a secure server instead of your ISP. This enables the VPN service to track your online activity and/or record them. For a VPN to be serve on the principles of VPN experience, it must advertise a no logs policy explicitly.
In an event where the legal authorities of the state ask the VPN service to submit evidence of your online activities, the no logs policy will save you as there will be no trace of your activities.
---
CyberGhost for Netflix and Torrenting
One of the key pillars of VPN is that it should unblock geo-restricted content. CyberGhost allows you to do just that.
Today, a lot of people are using VPN to watch digital video-streaming services like Netflix. CyberGhost allows you to unblock content on Netflix easily. Whether you're using Windows, iOS, macOS or an Android device, simply connect to CyberGhost's US server and get unrestricted access.
Everything that was previously blocked behind geo-restriction will be accessible. Netflix US is hailed as the best destination for the complete Netflix library. CyberGhost features a dedicated section for unblocking popular streaming services, such as Netflix. It's that convenient to unblock Netflix with CyberGhost.
Similarly, torrenting is a popular use of a VPN. CyberGhost has a dedicated section for anonymous torrenting. Torrenting is illegal in many countries. Without a VPN, downloading torrent files will lead to legal action from DMCA.
---
CyberGhost – Speed and Performance
Speed is one of the important factors to look for in a VPN. All the unblocking and anonymous browsing is not worth much if speed is not up to the mark. CyberGhost features hundreds of servers so performance is pretty much guaranteed.
Internet connection speed takes a hit when you use a VPN, it's normal to expect that. But how little loss of speed there is depends entirely on the VPN, and a few factors involving your use. CyberGhost features hundreds of servers per region. Because of that, you are less likely to run into slow-down caused by high traffic. And the number of regions the service covers mean better possibilities of connecting to the nearest region for the best performance.
---
DNS and IP Leaks
As we mentioned early on, DNS/IP leaks are a concern when you're using a VPN service. It exposes your real identity to the ISP. In our tests, CyberGhost fared well with no traceable DNS/IP leaks.
---
Server Coverage
CyberGhost has the best server coverage amongst the VPN services. It operates over 2900 servers in more than 60 countries worldwide. That's a significant number of servers and geographic locations for users to choose from. It also ensures that performance won't degrade during peak hours.
---
CyberGhost USA
CyberGhost operates 2900 servers in more than 60 countries worldwide. Out of the 2900 servers, there are over 500 servers operating in the United States alone. This is the biggest region in terms of the number of servers available. Users can connect to USA servers to get access to Netfix US.
Users in the United States can also hop onto other regions to torrent anonymously.
---
CyberGhost UK
United Kingdom comes in third with more than 300 servers operating in the region. People looking to unblock streaming services like BBC iPlayer can connect to a UK server using one of CyberGhost's many UK servers.
CyberGhost VPN also supports P2P torrenting, so UK users can torrent anonymously without getting caught by the ISP.
---
CyberGhost in Australia
NordVPN has a strong global coverage that allows you to connect to the internet anonymously. Australia plays host to 50 servers in the region.
---
CyberGhost in China
Unfortunately, CyberGhost does not operate servers in the Republic of China. However, people living in China can still use CyberGhost to connect to servers outside of the country. It is how most of the users will be utilizing CyberGhost.
---
All in All
Users looking for a static IP can also benefit from CyberGhost. The service offers to static IP to those who request it.
---
Customer Support
Customer support in an important key metric to judge the quality of a VPN service. Many of the VPN services offer customer support but they are limited. Very VPN service offer live chat support, most of them rely on ticket-based customer support.
CyberGhost is among the top VPN services because it provides one of the best customer support experience. Not only can customers contact via email, they can also submit a request and proceed to chat with an agent. CyberGhost has setup an elaborate FAQ page that already answers many of the common problems. The issues are segmented by platform and a search bar makes it easier to search for questions.
Additionally, interested parties can contact CyberGhost for other reasons too. Resellers/OEMs and affiliates marketers can reach out to CyberGhost using a dedicated email address, as well as the press. CyberGhost is also constantly improving itself from feedback collected through a dedicated email address by users who leave technical feedback, for its website and apps.
---
CyberGhost VPN pricing plans
CyberGhost offers multiple packages. So whether you're a new customer wanting to check out the service first, CyberGhost has got you covered. Users who are looking to extend their subscription can look towards other packages.
The service starts with a basic package of 1 Month which will set you back $11.99 per month. The second option for customers is the 1 Year plan that costs $59.88. The per-month price for 1 Year comes at $4.99. For the 2 Year plan, we are looking at $90.96, and a per-month price of $3.79. Finally, we have the 3 Year subscription that is priced at $99.00, and a per-month price of $2.75.
The per-month pricings are something you can avail, they are simply a breakdown of the money you're paying every month. The higher you go, the more money you save per month. All subscriptions of CyberGhost come with unlimited data. So even if you pick the 1 Month package at just $11.99, you can stream videos endlessly without the fear of topping your bandwidth limit.
All packages also come with a 30-day money-back guarantee. It provides a peace of mind to customers when they decide to request a refund if the service does not live up to expectation.
---
Payment Options and Methods
Another good news for customers is the multiple payment options CyberGhost provides. Customers can choose to pay via cash, PayPal or Bitcoin to purchase subscriptions. For a complete list of payment options available to customers in a country, visit the official guide here.
Cash is only available in countries like Germany, Switzerland, and Austria via certain resellers like Amazon, MediaMarkt, and Saturn. CyberGhost uses PayBilla for Bitcoin purchases.
---
Money-Back Guarantee = Refund Policy
CyberGhost offers a 30-day "no questions asked" refund policy. That means that when you contact the customer service out of disappointment or due to any other reason, CyberGhost will issue you a refund. In our experience, that certainly held true. We were issued a refund within one week of purchase.
It should be kept in mind that refund cannot be issued if you bought the subscription from third-party sellers. In such situation, refund can only be issued by the seller, not CyberGhost.
---
CyberGhost for Streaming
Customers today are looking towards VPN services for unblocking geo-restricted content on popular digital video-streaming services like Netflix, Hulu, and Amazon Prime etc. CyberGhost allows you to conveniently unblock all such content from streaming services instantly.
It features a section dedicated to unblocking streaming services like Netflix. For example, users accessing Netflix outside of the United States experience less content in the library because of certain geo-restrictions. This can be overcome with a VPN service like CyberGhost. Simply launch CyberGhost, connect to the service via a US server, and enjoy the biggest library of Netflix.
Similarly, folks living outside of the United Kingdom can use CyberGhost to connect to a UK server for streaming services like BBC iPlayer. In addition to unblocking content, CyberGhost ensures that you remain hidden from the watchful eyes of the ISP.
---
Drawbacks
Not everything was sunshine and rainbows during our time with CyberGhost. We were particularly not entirely satisfied with the speeds. There were a few instances, particularly in the US region, where we experienced performance slowdown during peak hours.
The second thing is the customer support experience. Although we did not have a problem contacting customer support and receiving a refund, a large number of people haven't had the same fortune. Refunds can take up to weeks.
---
Conclusion
Ultimately, CyberGhost is a VPN that is established and reputed, and we can now see why. We found the VPN landed largely on its positive reputation.
We were able to bypass all restrictions we came across, including unblocking Netflix. We had no problems connecting to the number of regions the VPN service offered. It all makes for a compelling product and one of the best VPN services in the market. If you're looking for a new VPN service to try, CyberGhost is a worthy consideration.
It has a range of compelling features, such as AES 256-bit encryption, firewall, and ad-block that makes for a good VPN experience. On top of that you get simultaneous support for up to 7 devices. If you decide to give the service a go but end up refunding it, the 30-day "no questions asked" refund policy makes for a strong incentive to try.
The service offers four packages, including a 1 month package that costs only $11.99. And for that you get all the features of Cyberghost including unlimited bandwidth.